President of Japan Society of Plastic and Reconstructive Surgeons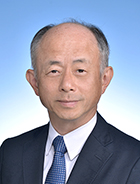 Takashi Nakatsuka,
President of Japan Society of Plastic and Reconstructive Surgeons
I am Takashi Nakatsuka from Plastic & Reconstructive Surgery / Aesthetic Surgery at Saitama Medical University. I was appointed to serve as the post of the President of Japan Society of Plastic and Reconstructive Surgeons at the 60th Annual Meeting held in April 2017. It is my honor to accept the role as well as such great responsibility as a leader of the Society. During my term of office for two years, I'm going to do my absolute best for development of the Society and I sincerely appreciate your strong support and cooperation.
The history of Japan Society of Plastic and Reconstructive Surgeons (JSPRS) goes back to 1975, when the first Workshop for Plastic & Reconstructive Surgery was held by Dr. Isaharu Miki, the proposer and the then Professor of Orthopedic Surgery at The University of Tokyo. Afterwards, Plastic & Reconstructive Surgery was accepted as a professional specialization in 1975, incorporated in 1985, and shifted its legal status to a general incorporated association in 2013. The number of the Society's members has increased year by year since then, and JSPRS has grown to one of the largest medical societies in Japan with 4,926 members (2,570 board certified members) at the date of April 2017, while Plastic & Reconstructive Surgery itself has been certified as one of 19 foundational specialties in medicine by Japanese Medical Specialty Board. This should be considered as results of the great efforts of our successive Presidents and our members, and I am willing to work on the administration of JSPRS towards new development as well as maintaining its tradition.
I have taken a part in the Society's activities as a Chairman of Finance Committee (Executive Director), Journal Editorial Committee, Board Certification Committee and International Affair Committee (Executive Director). The roles of these committees are essential for creating the future vision of the Society, and I have learned a lot through these committees' activities as a Director or a Chairman. I would be happy if my experiences could even be just a little help to JSPRS's development.
Furthermore, I presume that our young members' immediate interests lie on the future trends of our Board Certification System. JSPRS has been working hard as one of foundational specialties in medicine to establish a new Board Certification System according to the principles of Japanese Medical Specialty Board. Consequently, we'd like to provide our members with the latest information as often as possible. In addition to this, the JSPRS database is considered as important for storing mass data related to Plastic & Reconstructive Surgery to predict the future trends by analyzing it. This can be expected to have a new progress with introduction of NCD (National Clinical Database) this year. As for our website, because it is a source of information, I would like to disclose more complete information not only to our members but also to general public. Regarding international affairs, we exchanged a memorandum of understandings (MOU) with American Society of Plastic Surgeons (ASPS) in 2015 and Korean Society of Plastic and Reconstructive Surgeons (KSPRS) in 2016, which means JSPRS had its door open more widely to make great strides in the world. Plastic and reconstructive surgeons in Japan have sufficient skills and knowledge based on our predecessors' achievements, which we can boast about to the world. It is necessary to spread such skills and knowledge throughout the world, however, to achieve the goal, you are required to be able to have a discussion internationally from a global perspective. I intend to promote the Society's internationalization for young doctors to use as many opportunities as possible for their global success in the future.
I believe that JSPRS's mission is, above all, to provide safe and secure medical service to our patients. To achieve the goal, it is required that we broaden our academic knowledge by learning from each, improve our skills and expertise as a plastic surgeon, provide information as an open Society that is trusted by the public, as well as satisfy our members. I would appreciate if you could support and cooperate with us.